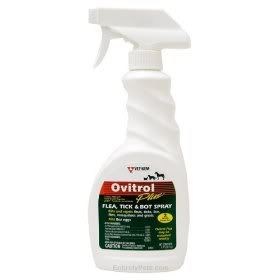 If your pet has a flea problem and is
not
currently on any kind of flea preventative, the product we use as part of our flea treatment program is
Ovitrol Flea Spray
. It effectively kills the live fleas on your pet, and also repels ticks, mosquitoes, lice and flies.
Ovitrol contains Precor Insect Growth Regulator, which will (according to their product information) kill flea eggs and larvae for up to 2 months when used as a spray for floors and furniture.
The spray can be reapplied weekly, and is safe for use on dogs, puppies, cats, kittens, horses and ponies.
Do not use on
puppies or kittens under 12 weeks of age. Contains Pyrethrins and S-Methoprene.